China Bestows National Friendship Award on Kenneth E. Behring, Founder Global Health and Education Foundation
FOR IMMEDIATE RELEASE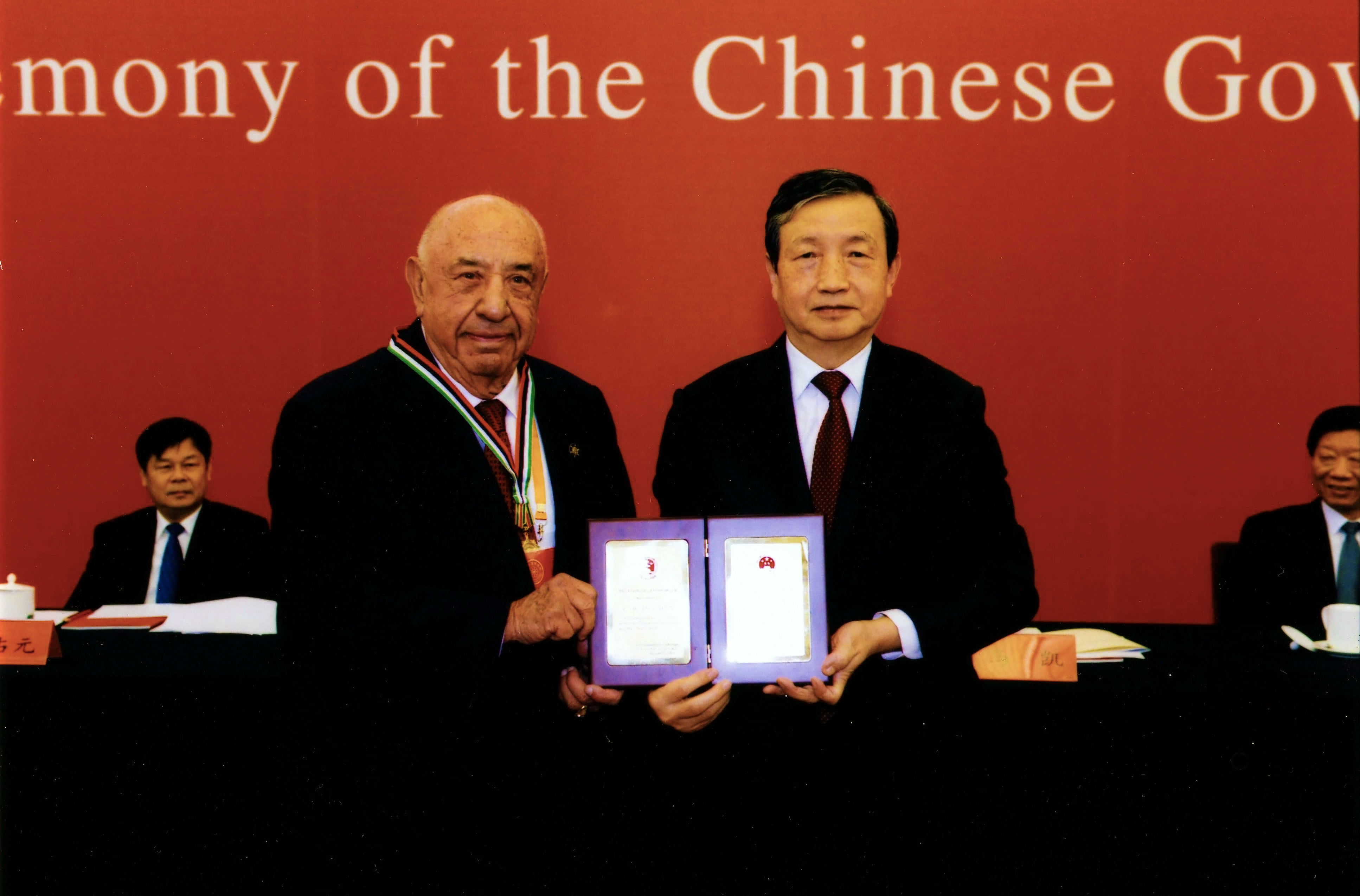 BEIJING – China's State Administration of Foreign Experts Affairs has awarded American entrepreneur and philanthropist Kenneth E. Behring, founder of the Global Health and Education Foundation, a NationalFriendship Award for 2013.
"I have been coming to China in friendship for more than 30 years," said Mr. Behring, of Danville, CA. "I have worked to be a friend to China through our many programs, including distributing wheelchairs to physically disabled people in China and by helping to improve education in natural sciences there. I consider myself a 'goodwill ambassador' for the American people to China, one of our most important allies today in global affairs. I am honored and humbled by this award."
Mr. Behring was one of 50 people from 20 countries to receive the 2013 award, China's highest honor for foreign experts. It includes a plaque and medal engraved with a picture of the Great Wall of China and with the inscription "Friendship Award" in Chinese and English. The award is given to experts who have made an outstanding contribution to China's economic and social progress.In all, more than 1,200 experts from 67 countries and regions have received the award since 1991.
Chinese Vice Premier Ma Kai presented Mr. Behring with the award on Sept. 29 in a ceremony in the Great Hall of the People in Tiananmen Square in Beijing. The following day, award recipients met with Chinese party and state leaders at the Great Hall and listened to a speech by Chinese Premier Li Keqiang. The awardees then attended a state banquet celebrating the National Day of the People's Republic of China.
"The foreign experts in China are close friends of the Chinese people. They are a bridge for communication between China and other countries and an important force for China's development," Mr. Ma said, according to China Daily."The Chinese people will always remember their contribution to China's development and progress."
Mr. Behring was honored for three initiatives in China in his Global Health and Education Foundation:
–the Wheelchair Foundation, which has distributed more than 340,000 wheelchairs to physically disabled people in China who need a wheelchair but cannot afford one. The Foundation has given away more wheelchairs in China than any other country. Its donors and partners include such corporations as Johnson & Johnson and Qualcomm, and non-governmental organizations (NGOs) such as the China Disabled Persons' Federation.
–the International Museums Partnership, which has joined with more than a dozen natural history museums in China to create world-class animal exhibits and interactive education initiatives. Mr. Behring is an honorary citizen of Shanghai, Suzhou, Dalian, Yangzhou, Tianjin, Shenzhen, Shandong Province and Chongqing for supporting, establishing, and contributing to natural history and science museums throughout China.
–Global National History Day(GNHD), which builds on Mr. Behring's partnerships with natural history museums with an international academiccompetition for elementary through high school students. It is a yearlongeducational program that teaches natural history and science outside the classroom and connects students to their peers around the world. The program requires young people to conduct in-depth primaryresearch on a natural science subject and present their findings in exhibits and performances. It is designed to help develop the skills required for the world's future leaders. Each summer in a different host city, the program culminates at the Global Finals, with participants competing for various prizes by presenting their projects to a panel of distinguished judges and professionals in their field. (www.gnhd.org)
Kenneth Behring's American dream had humble beginnings. Born in 1928 to a poor but hardworking family, Behring eventually owned his own car dealerships in his hometown of Monroe, Wisconsin. He was a millionaire by the age of 27. Mr. Behring used his assets to become a real estate developer in the 1960s. Over the course of the next 35 years, his companies created numerous planned communities in Florida and California, including the world-renowned Blackhawk development near San Francisco. He also was majority owner of the Seattle Seahawks football team. He was named three times to Forbes magazine's list of 400 wealthiest Americans. After his success in business, he turned to philanthropy. He started a program to turn teachers into leaders in education, launched the Wheelchair Foundation and then the Global Health and Education Foundation. He is the recipient of numerous awards for his achievements in business and charitable programs. Married for more than 60 years to his wife, Pat, he has five children and ten grandchildren.
For more information, please visitwww.ghefoundation.org and read Mr. Behring's autobiography, The Road To Leadership.
CONTACT:
Joel Hodge, Global Health and Education Foundation
Phone: 925-648-3860 (work)
E-mail: jhodge@wheelchairfoundation.org